May 28 to June 3, 2023, is National AccessAbility Week!
National AccessAbility Week (NAAW) is an annual initiative that celebrates, promotes, and showcases the diversity, inclusion, and accessibility in our country, and highlights some of the important initiatives aimed at creating an accessible Canada. Since 2019, Easter Seals Ontario has recognized the Wednesday of National AccessAbility week as the Red Shirt Day of Action for AccessAbility and Inclusion. Everyone is encouraged to wear a red shirt to raise awareness for accessibility and disability inclusion and make a pledge to help remove physical, attitudinal, and systematic barriers in their schools, workplaces, and communities.
The following educator resources are available:
Red Shirt Day
Red Shirt Day is an Easter Seals initiative and was first celebrated in 2019. The 2023 Red Shirt Day takes place on Wednesday, May 31. Sudbury Catholic District School Board (SCDSB) students and staff are encouraged to wear red on Red Shirt Day to promote messages of support for people and families living with disabilities.
About Red Shirt Day
Red Shirt Day of Action for AccessAbility and Inclusion is a day when people across Canada come together and wear red in schools, workplaces and spaces everywhere in order to create a visible display of solidarity: to show their support for persons and families of those who are living with disabilities, celebrate the achievements of people living with disabilities, and to pledge their commitment to help create a fully accessible and inclusive society that honours and values the contributions of people of all abilities in all aspects of life in Canada. Learn more!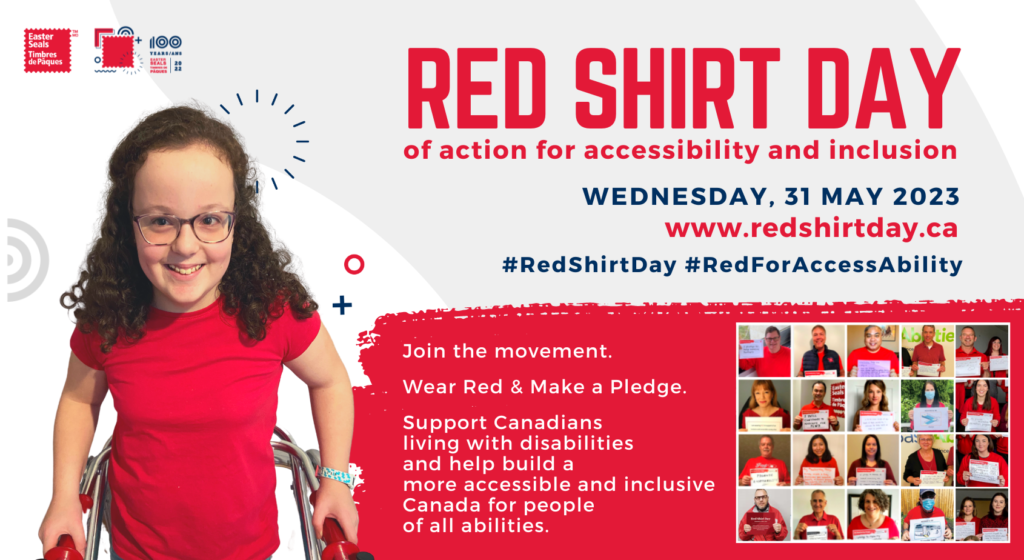 Resources 
Red Shirt Day Resources
Easter Seals Website
Rick Hansen Website
Poster
Handout
Pledge
Pledge Examples
Colouring Sheets
Books & Reading Materials for Kids
Books & Reading Materials for Kids
Films & Documentaries for Adults
Ted Talks