May 01, 2015
World Religion Study Project Leads to Elaborate 3D Synagogues Designs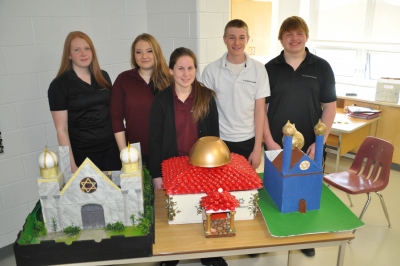 Give Grade 11 French Immersion students at St. Charles College a challenge and they will meet and exceed it. The students are studying world religions this semester. As part of their Judaism studies, they were given the task to build a 3D synagogue including all the necessary elements of a synagogue on the inside.
Teacher Jessica Demore says "The students stepped up to the challenge. One group completed the task using 321 spoons to build their synagogue. Others got fancy and virtual and constructed their synagogues using the ever popular building program, Minecraft."
The French Immersion students will be visiting a synagogue later this month as part of their studies. They will also study Islam and Hinduism, all the while comparing it to their Catholic faith before the end of the school year.