December 09, 2011
Victory for the St. Charles Boys' Hockey Team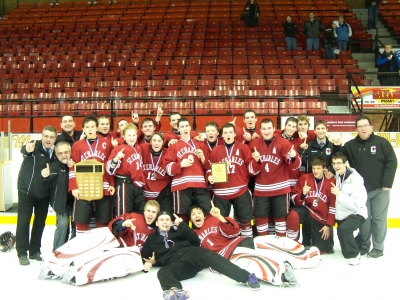 The boy's Senior Hockey team won the Nippissing District Association tournament in North Bay on the weekend of December 2-4th.
The boys had a round robin record of 2-0-1 which gave them a birth in the quarter finals versus the Scollard Hall Bears. The boys won the game 6-4 which lead to a semi-final game versus the Franco Cite Patriotes. S.C.C. won the game 4-1 which gave the team a feeling of retribution over a finals loss to the Patriotes in the recent Lively tournament. The win gave the team a birth in the finals versus St. Mary's Eagles from Kitchener. This was the team that the Cards had tied in round robin play.
The Cards were tied 1-1 after one period and 2-2 after two periods. Zach Belanger scored with just over 5 minutes to play to win the game and bring home the championship!
Belanger lead the team with 13 points in the tournament, earning MVP honours. Trevor Bedard also had twelve points to help seal the victory.