November 11, 2013
Today we "bring God's peace into the world"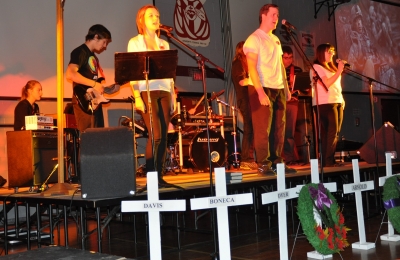 St. Charles College and St. Bernadette students came together in song on November 11 for a special Remembrance Day faith celebration. The presentation was pulled together by Drama teacher Diandra Zafiiris.
It featured a medley of recognizeable songs such as "One" by U2, "21 Guns" by Green Day and "Meant to Live" by Switchfoot.
An eagle's staff was also used as part of the memorable presentation to honour the fallen.
In photo: Vesna Kelsey on piano, Paighton Mills, Sean Lynott and Jenna Daypuk singing, John Bronicheski and guitar teacher Mr. Teddy Bubalo on guitar.