May 04, 2023
Three Sudbury Catholic Students Receive Bronze Medals at Skills Ontario 2023 Competitions!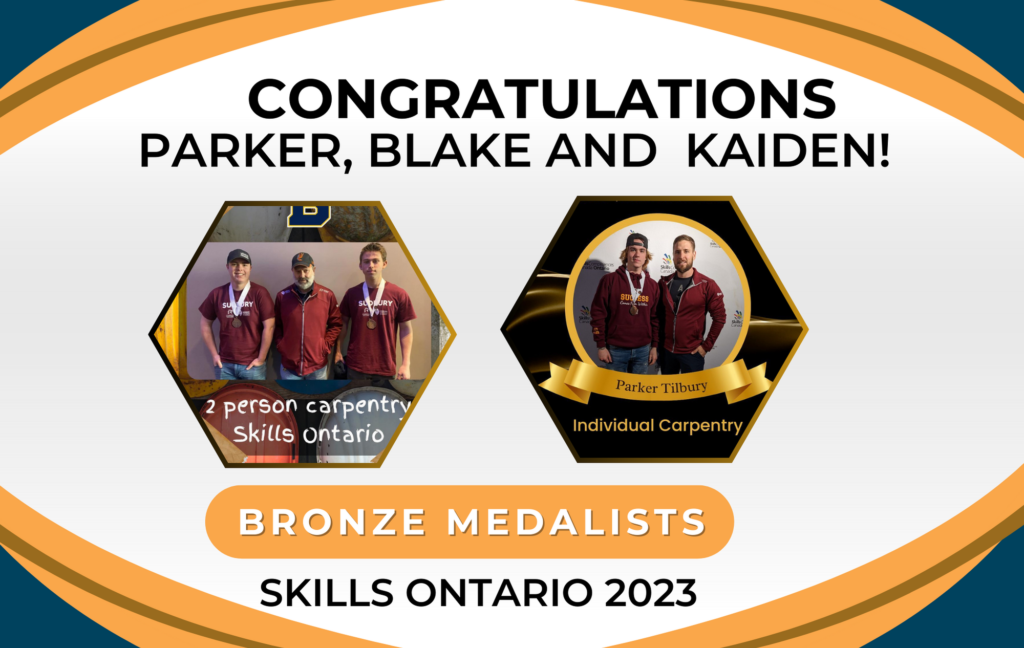 A big congratulations goes out to St. Charles College student Parker Tilbury and Bishop Alexander Carter C.S.S students Blake Rushton and Kaiden Filiatrault who received Bronze medals in the individual carpentry and two person carpentry categories respectively at the 2023 Skills Ontario competition.
A total of 15 students represented the Sudbury Catholic District School Board at the Toronto Congress Centre from May 1 –3, 2023. Contests included Carpentry, TV/Video Production, Graphic Design, Auto Service Technology and Photography.
"Congratulations to all our participating students and especially to our bronze medal winners – Parker Tilbury, Blake Rushton, Kaiden Filiatrault!" says Peter Prochilo, Superintendent of School Effectiveness for the Sudbury Catholic District School Board. "These achievements are a testament to the hours of hard work and determination from our students and their mentors. Our students continue to prove that they are leaders and innovators within their chosen industries, and we are very proud of their efforts. We would like to acknowledge all our teacher mentors for passionately supporting our students as they explore and ultimately pursue careers in the skilled trades. We especially thank teachers Kirk McKee and Chris Kohut for mentoring and coaching our medal winners."