October 10, 2013
That's a Wrap at S.C.C. – 112 Thousand Cans to Fill Sudbury Food Bank Shelves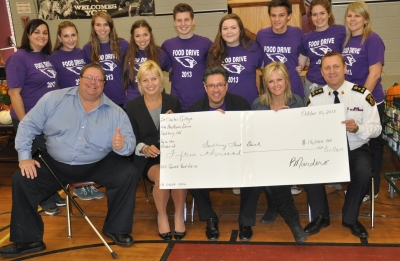 Once again, the food drive at St. Charles College was a smashing success. Together with its feeder schools, 112 thousand cans were raised for the Sudbury Food Bank – smashing the goal of collecting 60 thousand cans in less than a week.

The food drive began more than twenty-five years ago, and its founder, former student Jim Szilva still takes part in the drive with his children at the school.

The school also teams up with Q92 and KISS 105.3 as well as the students at St. Raphael, St. David, St. Bernadette, St. Andrew, St. Paul, St. John and Pius XII Catholic Elementary Schools.

Students collect a combination of canned foods and cash – the cash portion totalled 15 thousand dollars this year.