May 28, 2013
Taking the Pledge at St. Charles College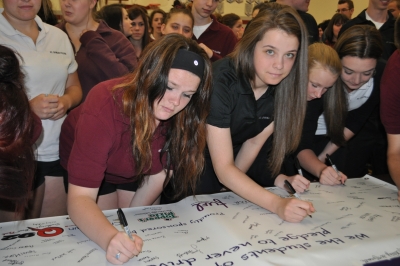 On Tuesday, May 28, almost one thousand students at Sudbury's largest secondary school – St Charles College – signed a pledge to end drinking and driving. The pledge banner was sponsored by several local businesses and provided for the school by the Impact 6/21 Foundation.

The Foundation was developed by the parents, family and friends of three Greater Sudbury teens were run over and killed in the wee hours of Father's Day, 2009.

The parents of Jazmine Houle, Steven Phillippe and Caitlin Jelley also spoke at the presentation.

The Impact 6/21 provided the students with a hard hitting presentation complete with a police presence and a first hand account from the first witness on the scene of that tragic accident four years ago.
The presentation hits close to home because Caitlin Jelley attended St. Charles College when she was killed. She would have graduated last year.