February 10, 2017
Sudbury Catholic Schools welcome new international students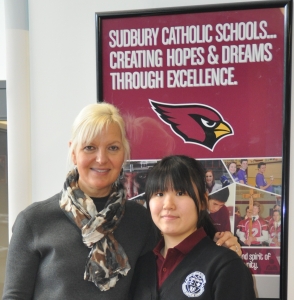 The Sudbury Catholic District School Board (SCDSB) is pleased to welcome three international students to its school communities for the second semester. One student from Vietnam and one student from China are attending St. Benedict Catholic Secondary School while another student from Japan is attending St. Charles College.
The SCDSB has successfully hosted international students and exchange students in the past; however, these new students are a direct result of the school board's recent international recruitment efforts. Recruitment initiatives aim to boost enrollment as well as enrich the educational experience of all students by affording them the opportunity to interact and learn with students from varied countries which will help them to become more global citizens. The SCDSB also hopes that its recruitment initiatives will attract newcomers to the Greater Sudbury community as students may decide to pursue a post-secondary education in the city and someday make Sudbury their home.
The majority of international students stay with local families and pay a monthly amount for room and board. The Sudbury Catholic District School Board utilizes the services of the Canada Homestay Network in order to find and assess suitable host families. The SCDSB currently has students who have applied to study for the 2017-18 school year and will need more families to host these students. For more information on how you can host an international student, please contact Michelle Kindt from the Canada Homestay Network at 1-705-479-2314 ext.2010 or by email at sudburyinfo@canadahomestaynetwork.ca. To learn more about Canada Homestay, and our International Education program, visit cometostudy.ca.