December 14, 2015
St. Charles College Ugly Sweaters Team Up with Holy Trinity Grade One students in PJ's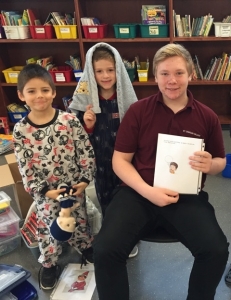 The grade nine French Immersion students at St. Charles College are currently studying a unit on "Les Contes" (short stories). One of their assignments was to create a "conte" and develop vocabulary words and comprehension questions about their "contes".
The students collaborated with teacher Colette Perrin's Grade 1 Immersion students to read the "contes", and assist them with their French reading and understanding.
The small students also happened to be celebrating pajama day and were divided into stations for story time with the big SCC students who were celebrating ugly Christmas sweater day.