April 11, 2013
St. Charles College Teacher's Story Included in Book About Resilience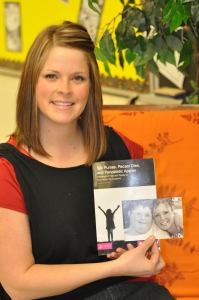 It takes a lot of courage to talk to those close to you about a life changing experience. It takes even more courage to share that story with the world. Patricia Demore, a Lifeskills teacher at St. Charles College has done just that. Included in a book by her former teacher's college professor, Demore tells her story of growing up a sibling of a person with Down syndrome, and the profoundly positive experience as a result of this unique and wonderful relationship.
The inclusion of Demore's story is a result of a voluntary assignment with teacher Warnie Richardson who, several years ago, asked his students, if they were comfortable to share stories of risk and resilience that they had experienced. According to Richardson, "(I) have collected personal narratives from 111 individual students, all of whom have individually noted, both in person and in writing, a profound willingness to see exposed and share a significantly challenging and sometimes deeply disturbing period in their lives." Richardson explains that this book is definitely for older audiences, as some of the recounted experiences are deeply disturbing and extremely personal. Collected as part of his research, this book delves into the idea that "To arrive at the happy may also require that you expend a little emotional energy sorting through the sad."
Three months before she began teacher's college, Demore's sister Christine passed away, and she felt that this would be a wonderful opportunity to share her story about the trials and tribulations of growing up with a sister with Down's syndrome, and the impactful life lessons that her time with Christine had taught her.
Growing up with an older sister with a disability, Demore definitely had some challenges. As a young student, she had much more responsibility than the average sibling as she often had to help out with the care and support of Christine. As well, social situations were sometimes very different for her, for example never having taken a yellow school bus, Demore had to ride the handi-transit with her sister during her schooling in order to ensure that Christine was safely accompanied to school each day. This kind of experience, when young, sometimes led to feelings of resentment, pressure and guilt.
Christine definitely inspired Demore positively as she has chosen a career path that has her working directly with students with special needs at St. Charles College. According to Demore, growing up her parents continually told her that she, "would be a better person for having had a sibling like Christine in (her) life, which proved to be very true." Losing her so close to her start at teacher's college, Demore knew that she wanted to share her story, and that it is "because of Christine's direct impact on my life, I have grown up to be a passionate, service-minded adult who desperately wants to make a difference in the lives of others…"
Author Richardson let his former students know that his book entitled, "Silk Purses, Recast Dies, and Peripatetic Apples – Narratives of Risk and Resilience from within the Academy" was finally published and that their stories had been selected for inclusion. Demore was thrilled and honoured to have her story be a part of this collection of inspirational experiences and personal accounts. Even though growing up and living with a big sister with special needs wasn't always "clear, unobstructed sailing", Demore knew that Christine was truly her inspiration in life. Losing her just before teacher's college, she knew she wanted to share her story despite her own emotional turmoil. Christine's ability to face obstacles head on, and continue through her life with a positive attitude and continuous good nature has ultimately directed Demore down her chosen path in life. " It is without doubt why I have chosen teaching as a career, and, more specifically, "special education" as my primary focus within that teaching career…. She will forever be my guardian angel and it is because of her that I now live each day to the fullest. I am thankful that Warnie allowed me the opportunity to share my story and celebrate my sister's life with others."