October 13, 2011
St. Charles College Students will be treated to the Scientific "Opportunity of a Lifetime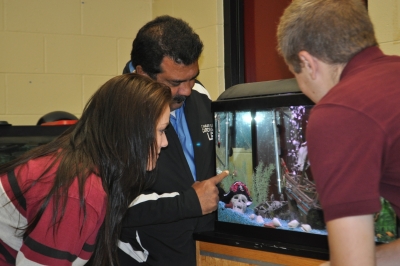 The students from two science classes at St. Charles College will get up close and personal with great Canadian scientist David Suzuki early next month.
Approximately sixty students at the school will take part in a virtual discussion with Suzuki November 2nd.
School science teacher Lloyd Rebeiro completed the application to participate.
Only 200 schools across Canada were selected for the virtual classroom discussions that are being hosted by the National Film Board of Canada and the David Suzuki Foundation.
Rebeiro says, "This is an opportunity of a lifetime for the students. They all know who David Suzuki is because he is the greatest science and environmental guru in our country."
To prepare for the virtual classroom event, students must watch and study "Forces of Nature: The David Suzuki Movie."
The student discussion with Suzuki will focus on Suzuki's core message which is "humans have exhausted the limits of the biosphere and it is imperative that we rethink our relationship with the natural world."
Some students may be chosen to the contribute to the discussion by asking their very own questions.
The event will take place at 1:30 p.m. on November 2nd in the school's ampitheatre.