April 16, 2013
St. Charles College gets 'All Dressed Up' in Preparation for Graduation Festivities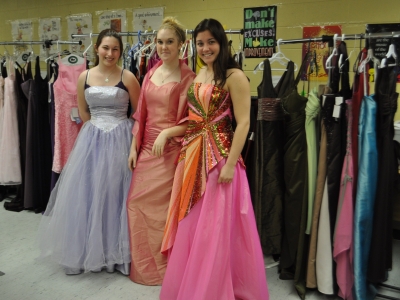 On April 15, 2013 St. Charles College held a graduation gown giveaway event for girls in grade twelve.
The project, put on by the Guidance Department in collaboration with the Sudbury District Health Unit, aims to ease the financial burdens of graduation gown costs and builds self esteem for girls.
The event was held in the Student Success Center and allowed the soon-to-be graduates a selection of over two hundred gowns in varying sizes, colours and styles.
Student Success Teacher Anastasia Rioux organized the first-time event at the school. Rioux says "There is so much for a girl to think about in their graduating year. Applications to university and college cost money. Then there is the hair, the dress and the shoes to contend with as well. Anything we can do to help kids cut costs, we are willing to do. The student council also got involved in putting up posters and making announcements to raise awareness about the event."
Rioux got involved with the All Dressed Up program a couple years ago after conducting a dress drive of her own and raising twenty-one dresses that were donated to the worthy cause.
A number of students in their graduating year ended up coming into the Student Success Center to browse and take one home. A couple of students even stopped by from neighbouring schools who had heard about the invite through social media and decided to check it out.
The school plans to hold a similar event again next year.