May 06, 2016
St. Charles College Elementary Student Scores Turning Points Award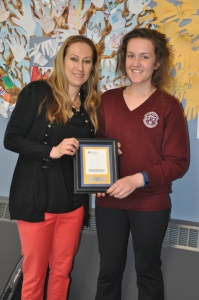 Turning Points essays submitted to The Learning Partnership are intended to allow students to share an event in their life that changed or altered them. This year, the first St. Charles College elementary students took part by submitting their works of art.
While she's only thirteen years old, grade eight student, Phoenix Cooper shared the story of her moment of growth stemming back to an incident when she accidently hit her sister with a golf club. Phoenix says it was then she learned how fragile human life.
Phoenix received a plaque and a cheque for twenty-five dollars.