December 12, 2016
St. Charles College and Laurentian University Team UP for Chemistry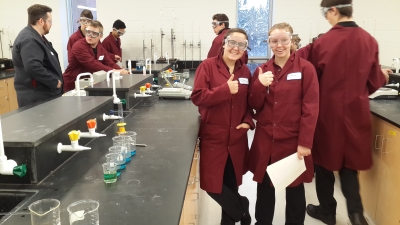 Grade 11 and 12 Chemistry students were treated to a full day of scientific inquiry and experiments this week. The students visited Laurentian University alongside their teachers, Mr. Fritz and Mrs. Kingshott.
The focus of the visit was to show students what the future has in store for them if they choose to study chemistry at the university level. The visit also included a tour of the university itself.
Mrs. Kingshott says "The students really enjoyed the part of the day when they were able to use the modern laboratory equipment at the University. The students felt very independent and excited to understand how a laboratory at University runs and what was expected of them. It really made them excited about Chemistry."
Mr. Fritz says "The visit included lots of experiments that were new to the students but there were lots of interesting links between what was being studied in the lab there and what the students are studying at St. Charles College."
After this great learning experience our Chemistry students at St. Charles College will be able to create their own solutions using accurate calculations and using proper scientific technique.