December 03, 2012
St. Charles College and Laurentian University Partner for Forensic Science Programming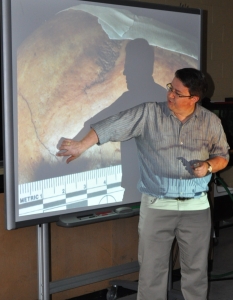 St. Charles College is pleased to announce that it has added yet another partnership to its learning community to better support its students. The Department of Forensic Science of Laurentian University – which delivers the only accredited forensic science programs in Canada, has formed a partnership with the school, in order to allow for new and outstanding learning opportunities for the students of St. Charles College. Senior students in both the school's Specialist High Skills Major in Health and Wellness, as well as the senior law classes will now be taking part in regular workshops and labs with the Forensics Department at the university. The forensic professors – including Dr. Fairgrieve, Dr. Watterson and Dr. Donohue, have agreed to gear their presentations to meet the curriculum needs for both areas of learning, and will directly tie into their areas of study. The forensic courses will introduce the students to blood spatter, arson investigation, autopsy, hair and fibre analysis, facial sculpting, forensic botany and entomology, criminal profiling and DNA analysis.
"This linkage to our programming – both our law and health and wellness classes – is exceptional as it is giving limitless opportunities for our students to pursue a variety of careers they may not have considered before." says Principal Mardero. "This hands on learning will allow them to really receive a deeper understanding of these sciences.
St. Charles College is a proud partner of Laurentian, and this new agreement reinforces the strength of our relationship with the University."
Classes have already begun working with the university starting the end of October, 2012.