December 01, 2015
St. Charles College and Holy Trinity Join Forces in Song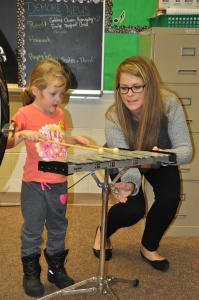 Students in the Early Learning Kindergarten program at Holy Trinity Catholic Elementary School visited the music room at St. Charles College recently to be entertained and wowed by senior music students.
The students learned about percussion, different instruments and music therapy. The senior students also treated the students to a couple songs such as the Spiderman theme song.
Mrs. Demore feels it is important for students to learn to appreciate music at a very early age.