December 16, 2016
St. Charles College Alumni returns to share message of hope and inclusivity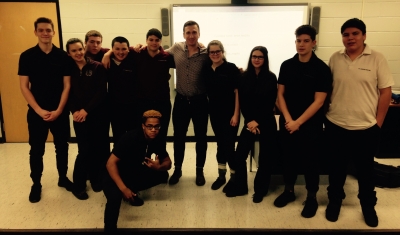 Former graduate from St. Charles College Brock McGillis recently wrote an article for Yahoo Sports Canada about being secretly gay in a highly hyper masculine culture of hockey. The article went viral and this week he was invited to St. Charles College to share his message of hope and inclusivity.
Brock McGillis graduated from St. Charles College roughly fifteen years ago. He spoke about playing hockey in the OHL, CIS and dealing with comments that were homophobic all the while he was questioning his own sexuality.
Brock also spoke about keeping his sexuality a secret from family and friends and only recently revealed his sexual orientation to the hockey community.
Brock says the reason he has come out is to educate people. He believes that it important for people to not be bystanders but instead break the habit of using homophobic language in the halls, as a joke or in the locker room.
Brock now works mentoring minor hockey and junior aged players.
The students were very receptive to his message. They were active participants in the presentation.
Principal Patty Mardero says "the conversation solidifies what we are teaching our students about respecting diversity."