February 22, 2013
St. Charles Cardinal Receives Prestigious Young Leaders Award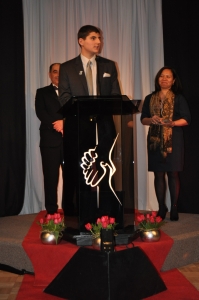 Students and staff at St. Charles College are confident that when David DiBrina leaves the school doors, it won't be the last they hear of him.
Grade 12 Cardinal David DiBrina is the recipient of the 2013 Sudbury Community Builders Young Leader Award.
David, who is serving his second term as the Student President graciously accepted his award at the Community Builders Awards Gala February 21st.
David headed up the school's annual food drive this school year which raised 125, 000 cans to combat hunger in the city. It was the largest single contribution in history of the Sudbury Food Bank.
David also serves as the student trustee for the Sudbury Catholic District School Board. He is involved in theatre, as well as community projects like the Gift of Life organ donation campaign while maintaining an average of 95 percent at school.
David graduates from St. Charles College this year and hopes to attend Western University in the fall and get accepted to its prestigious Richard Ivey School of Business.