February 17, 2016
SCC Presenting: High Schol Musical – April 19-23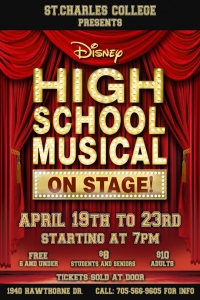 Join us this April, 2016 as SCC presents High School Musical on Stage!
High School Musical on Stage is based on a smash hit movie musical which first aired on the Disney channel is also celebrating a 10 Year Anniversary this year. The soundtrack itself was the highest selling album of 2006 while the DVD release sold 1.2 million copies in six days. Our cast have been busy channelling their favourite brainiacs, jocks, thespians and skater dudes in an all singing, all dancing stage spectacular!
All ages will enjoy the high energy and fun of High School Musical – On Stage! Call St. Charles College for more information – (705) 566-9605.