April 15, 2014
SCC Gets Movin'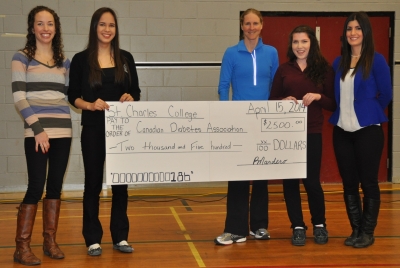 Halle Berry, Salma Hayek, Nick Jonas of Jonas Brothers fame are just some celebrities living with diabetes.
On April 15, 2014, students at St. Charles College were educated by representatives of the Canadian Diabetes Association in preparation for the Sudbury Rocks!!! Race, Run or Walk for Diabetes on May 11th.
Afterwards, a $2500 cheque was presented to the Association on behalf of the students who are participating in the Mother's Day run. In addition to training weekly, the students have also been collecting door-to-door pledges to support Diabetes research.
More than sixty Cardinal students and forty staff members will lace up their running shoes for the big race.
Teacher Chantal.Dagostino who is heading up the large pack of runners says "Many of our students are impacted by diabetes either individually or because a family member close to them suffers with the disease or has died from complications because of it. It just makes sense to educate this generation."