November 12, 2014
Remembering the Fallen Soldiers of St. Charles College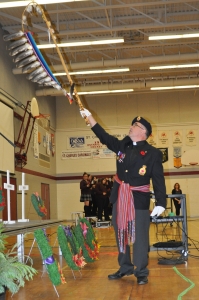 A November 11 ceremony of remembrance honoured soldiers whose lives were lost in historic wars but also highlighted former students like Pvt. Andrew Miller. Pvt. Miller graduated from St. Charles College and was killed by an improvised explosive device in Afghanistan back in 2010.
Another fallen Cardinal was also honoured. Cpl. Glenn Arnold was a medic technician who was killed by a suicide bomber in Afghanistan in 2006.
The moving ceremony included both staff and students from S.C.C. and its sister school, St. Bernadette.
The ceremony also included songs presented by the S.C.C. choir.