October 21, 2016
Random act of Kindness wave hits St. Charles College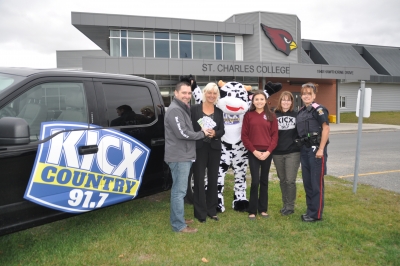 KICX 91.7 and Greater Sudbury Police Service have partnered to deliver Random Acts of Kindness and today they came to St. Charles College to support the breakfast program.
This morning, Constable Hally Willmott showed up with the KICX morning hosts, Brad and Leann Hulme and Moolah the Cash Cow to make the cash donation to Principal Patty Mardero along with SCC student and breakfast club helper Aryanna Recollet.
The breakfast program runs daily under theh direction of Julie Jessop to feed more than one thousand students in grades 7 through to grade 12.
SCC would like to thank Sudbury Police and KICX for their random act of kindness!
In photo: Brad Hulme, morning KICX host with Moolah the Cash Cow, student Aryanna Recollet, KICX morning host Leann Hulme and Constable Hally Willmott stand outside St. Charles College for the Random Act of Kindness cash presentation.