March 01, 2013
Provincial Funding for St. Charles College Will Make the School an Even Safer Campus of Excellence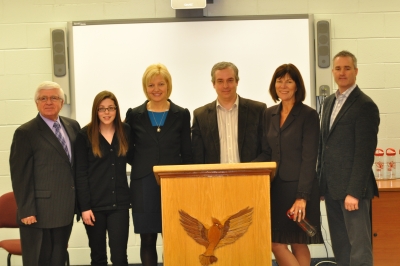 Provincial Member of Parliament Rick Bartolucci announced 3.3 million dollars in funding today for the St. Charles College campus.

Bartolucci made the announcement at the school citing the improvements will help create an even safer environment.

Sudbury Catholic Board Chair, Jody Cameron says the money will be used to build an administration area on the main floor of the school. Currently the office is situated upstairs on the second level, which is not ideal.

St. Charles College is expected to be a busy hub of activity with a new JK-grade 6 Catholic elementary school also being built in the vicinity.

St. Charles College is widely known for its academics and athletics. This year, the school won NOSSA girls' and boys' hockey titles, as well as volleyball and curling titles. The school also won the city Mock Trial Championships this year.

Principal Patty Mardero says "great things are happening at St. Charles College and now beautiful things are to come."

Board Chair Jody Cameron says construction is expected to begin in May of this year.