September 12, 2016
Mass For Rev. Gerald Lalonde C.S.B.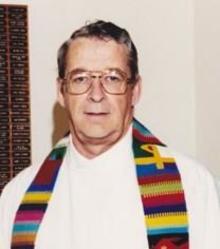 Rev. Gerald Lalonde C.S.B., the last Basilian Principal of St. Charles College, died in Toronto on June 14, 2016 at 79 years of age. He was in the 50th year of his priesthood. During the 1970's and 1980's, Father Lalonde served in various roles at St. Charles College: teacher, Department Head, Vice-Principal and Principal (1983-1985).
Most recently, he was the pastor of Our Lady of Peace church in Capreol. He was a much respected and much loved priest!
A Mass will be offered for Father Lalonde on Tuesday, September 20 at the Church of Christ the King at 12:05 pm. After the Mass, everyone is invited to go to the Caruso Club Restaurant for the luncheon buffet. The upper level of the restaurant has been reserved for this group. The cost of the buffet is $12.35 + taxes.