December 19, 2016
Leadership students at St. Charles College delivering baskets again this season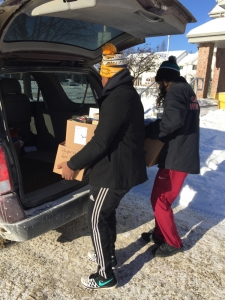 For the last few years, Holy Redeemer church has relied on the leadership students at St. Charles College to deliver baskets to those who need help at Christmas. The students load and deliver baskets of canned food items, fresh food and gifts for the children.
This past week, the students delivered those baskets. Their teacher, Mrs. Bev Belanger says "each year at this time the students ask about this initiative. They say there is nothing that brings greater joy to them than seeing the faces of those on the receiving end of these care packages."
The parishioners create the baskets to support one hundred fifty families in the Sudbury region. Some of the canned food items in the baskets comes from the St. Charles College fall drive which saw 121 thousand cans raised for the Sudbury Food Bank this year.