November 21, 2012
"If I can do it, why can't you?"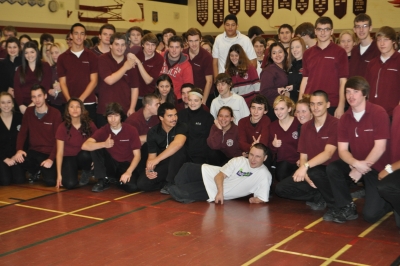 Close to one thousand students were touched by the life story of Shayne Smith at St. Charles College this week.

Smith is a member of the Canadian National Wheelchair Basketball team. He competes with only half a hand for dribbling and passing the ball.

Shayne contracted a dangerous and deadly form of meningitis at four months of age. The blood poisoning forced doctors to amputate both his legs and a hand.

To make matters worse, Shayne also had to deal with a rough relationship with his father that led him down a path of drugs, and school suspensions.

His determination has allowed him to triumph and he brought his inspiring message to the students. The story tied in nicely with the school's anti-bullying message. This month, St. Charles students are active in presentations and activities centred around Bullying Awareness and Prevention month.

Students were very receptive of the presentation and many wanted to take pictures or to exchange words personally with Shayne afterwards.

Students continued the conversation by tweeting and sending Facebook messages to Shayne.

Shayne lives in Toronto but his presentation was provided by an organization called the Tutor Doctor.