April 12, 2013
Harlem Ambassadors Deliver Messages of Confidence, B+ and Set Goals to High School Students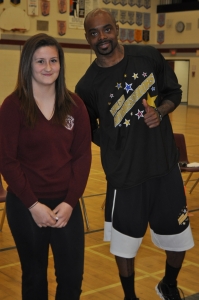 The Official Harlem Ambassadors athletes dribbled their way into the gym of Sudbury's largest high school to show off their bag of basketball tricks and share their success stories on Monday, April 8th.
The athletes wanted the grades nine and ten students from St. Charles, Lo Ellen and Lasalle to know that they will have to overcome obstacles in life but they should do it with the confidence to say "no" to drugs and alcohol.
The adrenaline filled show was hosted by Sudbury's Crimestoppers and featured personal stories from each Ambassador who was personally touched by drugs and alcohol addiction.