April 12, 2017
Grade 8 Junior Cards are serious about Science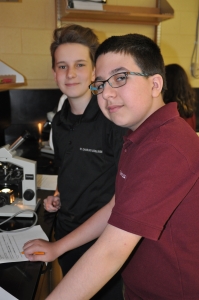 Grade 8 Cards were invited to the secondary wing at St. Charles College to learn about the different strands of science today.
The students were on rotations all day to learn about biology, technology, earth sciences, chemistry and physics in order to prepare them for next year.
The students did everything from building bridges and water filtration systems to studying onions and cheek cells under a microscope.
They were then treated to a pizza lunch and lime green Science shirts for an upcoming Cards Wear day.
The Secondary Science team organized this day under the direction of Program Leader Tim Kingshott.
We thank the team for making this day possible for our future
grade 9's !