February 17, 2016
Grade 8 CARDS Learn about the High School Years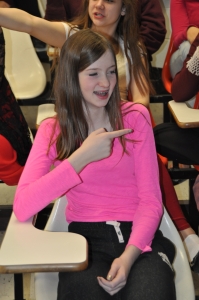 The St. Charles College grade 8's were treated to an informative presentation complete with a pizza lunch courtesy of the Learning Disabilities Association of Ontario. The presentation, that centred around a pizza theme, had students explore their strengths and learn about their learning styles in order to prepare for high school next year.
The LDAO presentation also focused on proper streaming, graduation requirements and forced the students to get serious about the future.
One of the fun activities, had the students think about their differences and celebrate them. They had to put up their left or right hand depending on their preferences. Questions were asked like "do you prefer the X Box or the play station?" "Do you prefer sweet or salty foods?"
The presentation helps the students with guidance education and to complete their IPP (Individual Pathway Plan) as they get ready to enter high school in the fall of 2016.