May 07, 2013
Funky costumes, make-up and theatrics make Godspell a must-see this week at SCC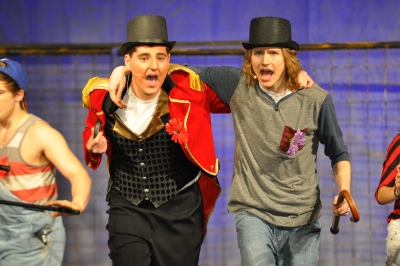 A cast of ten actors is bringing the parables in the Bible to life at St. Charles College this week. The students ranging from grades nine to twelve are putting on a production of Godspell in the school gymnasium.

The musical which is structured by a series of parables was created by Stephen Schwartz. It ends with Jesus' crucifixion. Jesus Christ is played by senior student Cole Thomson. Student President David DiBrina doubles as John the Baptist at the beginning and Judas Iscariot at the end of the show.

The play was last showcased by the school eighteen years ago when it was a co-production between Marymount College and St. Charles College. The director and producer of the school musical, Mrs. Diandra Zafiris was featured as a student in the 1995 production.

This week is Catholic Education Week and many of the students attending elementary feeder schools will be coming to St. Charles College to enjoy the performance.

It is also open to the public from May 8th to the 11th at 7 p.m. Tickets are $10 for adults and $8 for students and seniors. Children age 6 and under are admitted for free.