November 27, 2015
F/I Students at St.Charles College Celebrate la Ste-Catherine by Making "tire"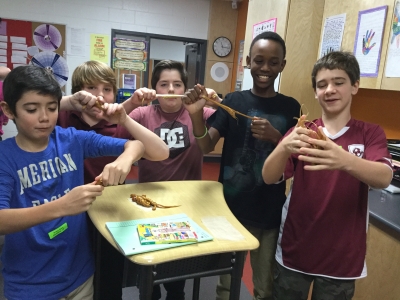 On November 25th teacher Sabrina Rocca's grade 7/8 French Immersion class at St. Charles College celebrated a cultural event known as "La Sainte-Catherine. Saint Catherine is the patron saint of young, unmarried women. She lived in the 4th century, and was executed for refusing to marry the emperor. Making tire became a French-Canadian tradition when Sister Marguerite Bourgeoys, founder of the Congregation of Notre Dame made sweet candy to attract young students to her school. The "candy" became so popular that young maidens started making them on the feast of Ste. Catherine.
Students learned about mixing various ingredients and boiling at exact temperatures to get the perfect tire. They also discovered how pulling this dark taffy-like mixture transformed it into a golden yellow colour, making it a wonderful treat. The class made 2 different traditional recipes, which both turned out to be a wonderful treat.
The students shared their tire while taking about where it came from and saying a special prayer to both Ste. Catherine and Ste. Marguerite Marguerite Bourgeoys.