March 06, 2014
Crunch Time at SCC!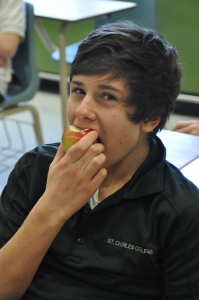 Almost one thousand students at St. Charles College bit down on their apples – on the last day of school heading into March break.
At ten o'clock the students created a collective crunch to celebrate Nutrition month in Ontario.
The event is celebrated each March with fruits and vegetables like broccoli and celery and it is organized by the head of the school breakfast club, teacher Elizabeth Szilva.