May 03, 2016
Celebrating our Catholicity at St. Charles College with L.O.V.E.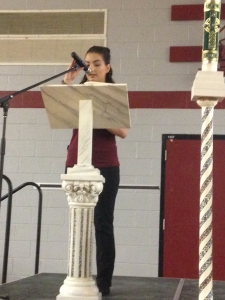 Today, Catholic schools all across the province celebrated their faith with a province wide mass.
At St. Charles College, the students and staff from grades 7-12 celebrated the theme of Opening the Doors of Mercy with a mass with Celebrant Father Peter Moher at Holy Redeemer Parish in Sudbury.
Students in the Leadership classes assisted with the procession and readings.
Father Peter shared an acronym of L.O.V.E. for students to consider in their daily school and home life.
L stands for listen.
O stands for openness.
V stands for voice.
E stands for giving an effort