October 21, 2015
Cards 'can' do it!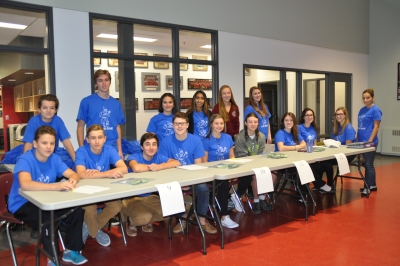 Members of the St. Charles College Student Council are selling tees in the main foyer of the school this week to support the Sudbury Food Bank. The t-shirts which are retailing for twenty dollars go to supporting the school's annual food drive. That means the sale of one shirt equates to 100 cans to line the shelves at the food bank.
The blue shirts were designed by students in teacher Beverly Belanger's leadership class. Student Jordan Sutton designed the image on the front of the shirt while Tyler Michaud came up with this year's slogan: "Cards 'can' do it! 60, 000."
The goal for this year's food drive is to collect sixty thousand cans and they are doing it with the support of feeder schools – St. David's, Holy Trinity, Pius XII, St. John and St. Paul schools.
The food drive is an annual tradition dating back to almost thirty years ago.