October 19, 2016
Cards are ready to crush 60 K cans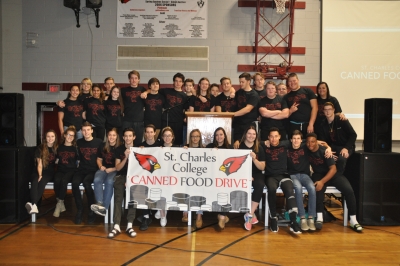 This morning, the St. Charles College student council and leadership class students kicked off the annual canned food drive in front of the student body that is 1200 students strong.
Students now have until Tuesday to meet the challenge.
They have had great help from feeder schools including Holy Trinity, St. John, Pius, St. David and St. Paul.
Principal Patty Mardero reminded the students what it must be like to worry about not only tests and assignments but about their next meal or going to bed hungry.
Totals will be announced on Tuesday when all food and money collected will be transported to the Sudbury Food Bank warehouse.