February 13, 2015
Cardinals take 2015 NOSSA Skiing Title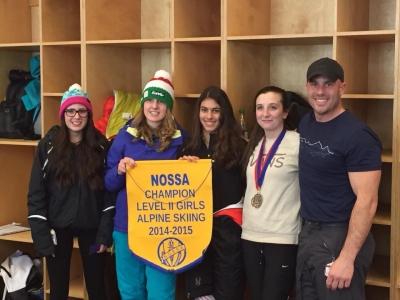 The NOSSA high school alpine ski championships were held this week at Adanac Ski Hill. Lockerby is always favoured to win – but the Cards upset the ski community with a strong showing that allowed them to clinch the level two girls' title.
Level two means the skiers have raced at some time in the past.
Grade twelve Stephanie Martin racked up the most points for the team with a first place overall for girls' skiing.
Three of the Cards girls' placed in the top five – which secured the overall title win.
Lorenza Mottinelli came fourth overall, and Lauren Gareau came fifth overall. Grade ten student Alyssa Scott finished eighth.
The girls' will now compete at OFSAA later this month at Blue Mountain in Collingwood.
Coach Gregg Kolodinski says "the girls' were very modest and showed a lot of class this week which will prepare them for what's to come in Collingwood. It's nice to cheer for the underdog and see them sweep the podium."