October 24, 2014
Cardinal Can Total Crushed Once Again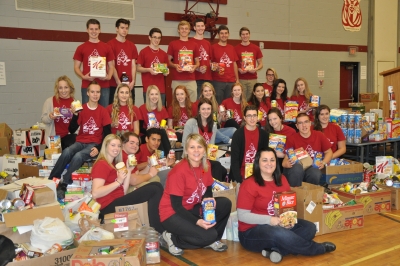 St. Charles College and its feeder schools have collected more than 115 thousand cans to stock Sudbury Food Bank shelves during the winter months. This exceeds the goal to collect 60 thousand cans that the student council set at the beginning of the week.
Together with St. Raphael, St. Paul, St. Andrew, St. Bernadette, St. John, St. David and Pius, the Cards went door-to-door all over the city in pursuit of cans or cash.
The schools also teamed up with Q92 and Kiss FM to promote what has become the largest single donation to the Sudbury Food Bank in its history.
SCC Principal Patty Mardero says, "I congratulate every Card and future who went door-to-door these last few weeks so that people in this city can eat."