May 15, 2015
After Setbacks and Heartache, St. Charles Cardinal is Honoured with Full Scholarship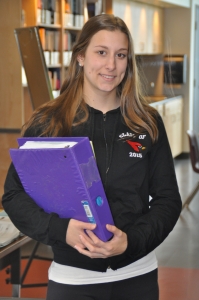 There is not a more tenacious and motivated student than Lisa Ludwig. The seventeen year-old St. Charles College student and cancer survivor has just won Laurentian University's Jim Fielding Memorial Bursary which will pay for her next four years of schooling.
Lisa's story is full of hardship and hurdles. She has been a child of the ward since she was small – living with a foster family for as long as she can remember.
In grade eight, while her friends were celebrating graduation, she was having her leg biopsied. Days later, she was diagnosed with osteosarcoma – the same cancer Terry Fox was stricken with in his teen years.
That summer before high school was overshadowed by hospital stays, treatments, hair loss and would eventually lead to the loss of her leg.
Due to treatments and a weak immune system, Lisa started grade 9 late in the second semester putting her off track to graduate with her peers. But that did not stop her – Lisa took classes through home schooling and summer school to get back on track. In addition, she worked on two co-operative education placements in grade 11 and 12 at Health Sciences North in both cancer and mental health wards and at the Children's Treatment Centre. She will also graduate next month with a red seal with a Specialist High Skills Major designation in Healthcare.
Throughout high school, she was dealt more grief. Her foster father died of a heart attack when she was in grade ten and last year, and last year her foster care worker, Nicole Belair was killed in a house fire in Hanmer.
Lisa continues to have two hospital visits per year for her osteosarcoma but nothing has stopped this driven student. She is excited about this new chapter of her life at Laurentian University. She has high hopes of becoming a social worker who can help people and give back to a system she has been a part of all her life.